Step and Repeat Banners San Diego
Gather all eyes to your upcoming San Diego event with our dazzling step and repeat banners! These displays not only create an amazing atmosphere but also give your company a chance to build its visibility and brand identity. Perfect for photo opportunities and media coverage, our San Diego step and repeat banners ensure that your logo takes center stage.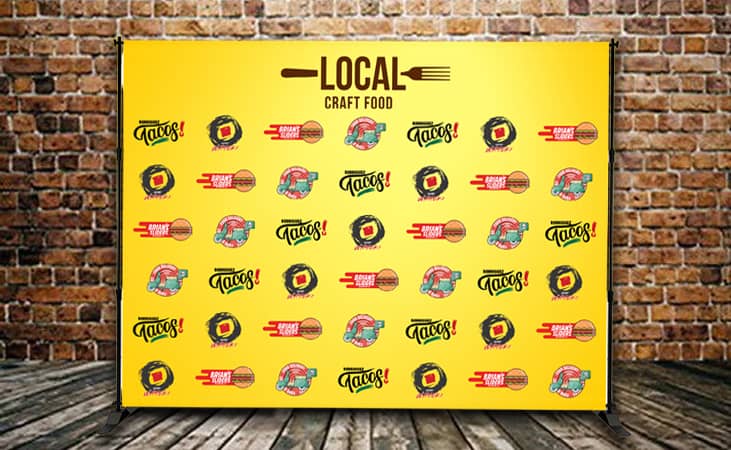 Show Filters
Custom Printed Step and Repeat Banners San Diego
Our custom printed step and repeat banners can make any event unforgettable! Our vibrant printed graphics will add a unique flair that will be sure to impress your guests. Personalize your event and make it truly special with our one-of-a-kind step and repeat banners.
Whether you're commemorating a milestone, hosting a charitable fundraiser, or producing a show stopping red-carpet gala, our remarkable step and repeat banners guarantee a Hollywood-style image opportunity that will astound your guests. These banner displays are perfect for any event you are trying to draw attention to your brand and logo. They can help add that much needed glitz and excitement to your event.
Amp Up Your Appeal With a Step and Repeat Backdrops
Amp up the appeal of your event with a customized banner featuring your company logo or sponsors. Perfect for trade shows, red carpet events, and product launches, these backdrops scream sophistication. You can also personalize the step and repeat banners with images or and icons related to your event theme. Prove to your attendees that you mean business with our San Diego step and repeat backdrops that exude professionalism and class.
Magnify Your Brand
Our step and repeat banners are sure to magnify your brand's visibility. These banners are more than just a backdrop and each snap captured in front of them presents a chance for your brand to shine through. Making use of advanced print technology, our banners boast high-resolution imagery and vivid tones, ensuring that logos and designs garner attention. This marketing tool is especially effective at amping up brand recognition and loyalty.
Step and Repeat Stands: Built to Last
Crafted from sturdy materials, our displays are incredibly long-lasting and able to endure any event's hustle and bustle, all while retaining their visually stunning appeal. A wise investment, they will enhance your event. See the difference for yourself and host your next marketing event with a celebrity-style upgrade.
Don't take our word for it, try it out. Upcoming event in San Diego? Look no further than a step and repeat banner on a red carpet for a touch of sophistication. Catch some attention and make a lasting impression with our elegant displays.
Oui Promote's Display Products
If you're looking for a reliable way to show off your brand at any event, look no further than Oui Promote! We offer a range of portable display products from banner stands and tents to large-scale trade show displays – all designed to showcase your product or service in a visually stunning way.