Banner Stands
If you are looking for a way to make your presentation stand out amongst the crowd, then you'll love our attention-grabbing banner stands printed with your vibrant branded graphics. Our banner stand displays are designed to be portable, lightweight and functional. We offer a wide selection of banners from your basic roll up models to wide and tall options.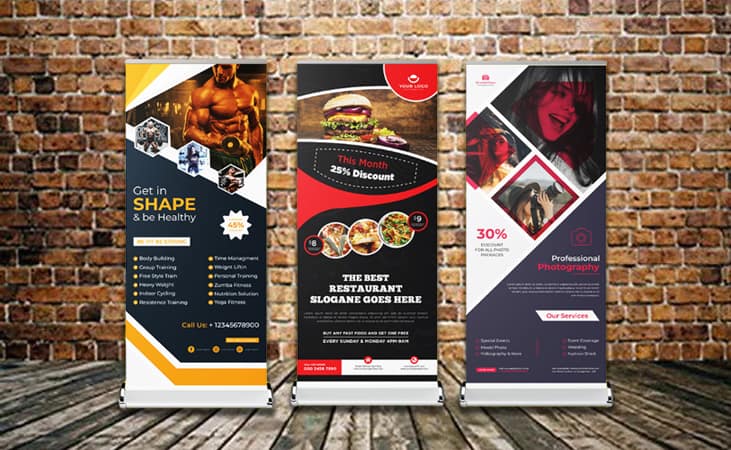 Show Filters
Banner Stands – Roll Up and Retractable
Banner Stands are a great way to advertise when you're looking to promote your products and or services. There a very few marketing tools out in the display market that offer the versatility of a portable banner stand. They can be used in a variety of environments and functions. You can use our trade show banner stands as a standalone display or combine with our other exhibiting materials to add visual pop.
Use banner stands to highlight important information about your product or services. These standalone signs can be easily moved and pop up where information is needed. When you're looking to exhibit at a convention or business expo, the type of banner display stands you will use can vary depending on the show environment and spacing. We are certainly not limited to the portable banner stands listed on our website. Checkout our downloadable PDF for a full trade show and promotion product offerings.
Fast Turnaround Available on Select Banner Stands
Typically, our turnaround time on our retractable banner stands is 3 to 4 days with graphic approval. However, depending on the timing of your event, we can expedite your order. With our fast turnaround process, we can complete and ship an approved graphic within two business days. If the work queue permits, Oui Promote will not charge a rush fee. However, if we have to stop work production to process your job order, rush chargers may apply. Currently, the only roll up banner stands available for our fast turnaround service is the Orient and the Imagine. Have questions about this service contact us.
Retractable Banner Stands
Currently, we only have retractable banner stands listed in our banner stand section. The reason for this is these are the most popular banner stand types sold. They are extremely easy to set up and they house the banner graphic inside the hardware for protection. If you are looking for other types of banner stands, then I would suggest visiting our catalog. We also have a few outdoor banner stand displays that can be found by clicking here https://ouipromote.com/outdoor-sign-stands/.
Banner Display Stands and Media Use
There is a variety of media used for the graphic prints throughout the banner display stand industry. Each media type serves a function and has attributes that make it more or less appealing for certain job display aspects. We have a wide selection of media available but primarily use a 14mil super smooth block out vinyl or a 9mil stay flat display film. All our banner graphics are printed with an eco-solvent ink that is designed to be durable and scratch resistant. To learn more about our banner stands graphic finishing process call 619-534-2747.